For the first time ever, I've joined a month-long instagram challenge called "March Meet The Maker". I normally shy away from anything that involves posting every day as I'm not very consistent with social media so let's see if I can get to day 31!
This challenge was created by graphic designer Joanne Hawker in 2016. At the time, Joanne felt in bit of a creative rut with Instagram and couldn't find a way to pull herself out of it so she searched for a challenge aimed at small creative businesses but couldn't find one. Her solution was to create #MarchMeetTheMaker and invite other makers to join in, with the aim of sharing how we got into our creative careers, what, where and how we make – and a lot more besides!
I thought I'd share a selection of what I have posted so far here in the blog, and then if you're interested you can follow the rest of the journey on instagram.
The photo at the top is from Day 1 of the challenge: this is me! Not at my studio in London but in Luang Prabang on holiday a few weeks ago. I loved the colours, the many temples and the landscape of Laos, Bhutan and Cambodia – plenty of inspiration that I'm sure will filter into the work at some point.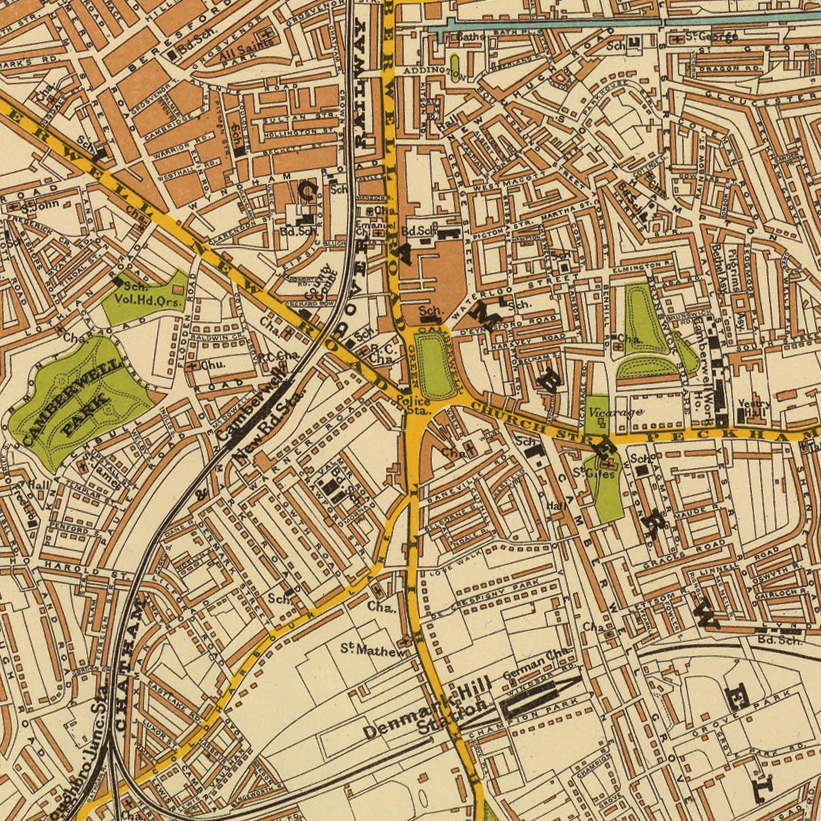 Day 2: WHERE
A lovely old map of the area where I live, though my street didn't exist at the time this was drawn! I have been in Camberwell, a vibrant and arty South London neighbourhood, for the last 18 years and it feels very much like home.
I used a portion of this map to create a decoupaged a glass dish which you can see here.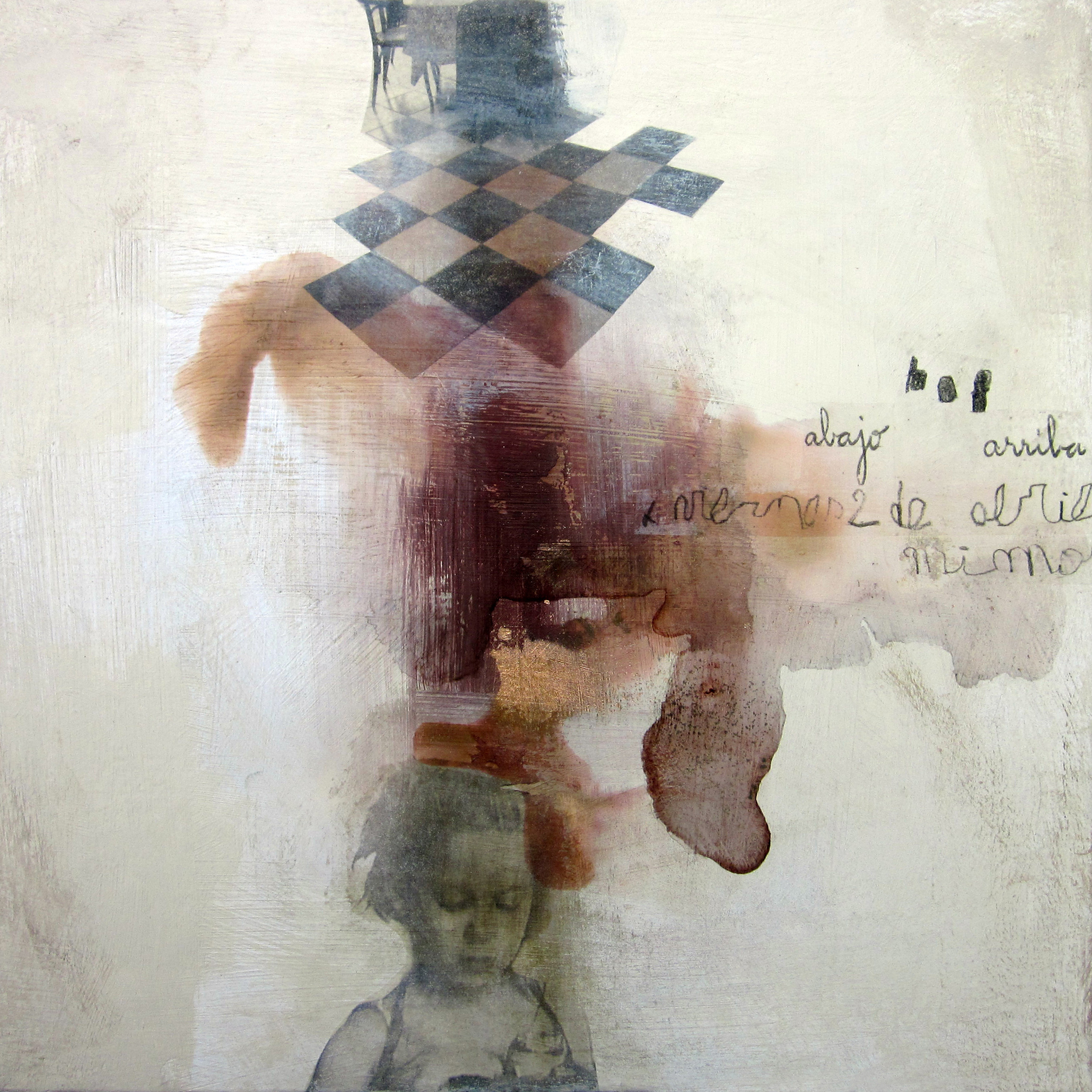 Day 3: HOW I STARTED
The question for me is how far back to go – to the very first attempts at drawing? to a previous career before art school? to my first degree in ceramics? Any of those would give different answers the question of how I started, all of them valid and probably interesting… In the end, I decided to pick the point in time that got me to where I am now: the MA in Studio Printmaking I completed in 2007. That was when I moved away from working with clay and began to experiment with mixed media techniques on paper and canvas, blending a fusion of painting and digital media – acrylic, watercolour and ink with digital print – to produce layered images such as the one you see above. The inspiration behind this first body of work was personal memory and family photographs, so a similar starting point to my current work even if the results look very different these days. Looking back at images from my degree show and subsequent exhibitions go me thinking how the work has evolved and changed through the years, and to question whether the essence is still the same. I don't have an answer to that yet so I will keep pondering…
I still work with personal photographs and documents in my commissioned work, so if you are interested in seeing more examples of these collages with a view to having something special created for yourself or a loved one,
get in touch
for an informal chat.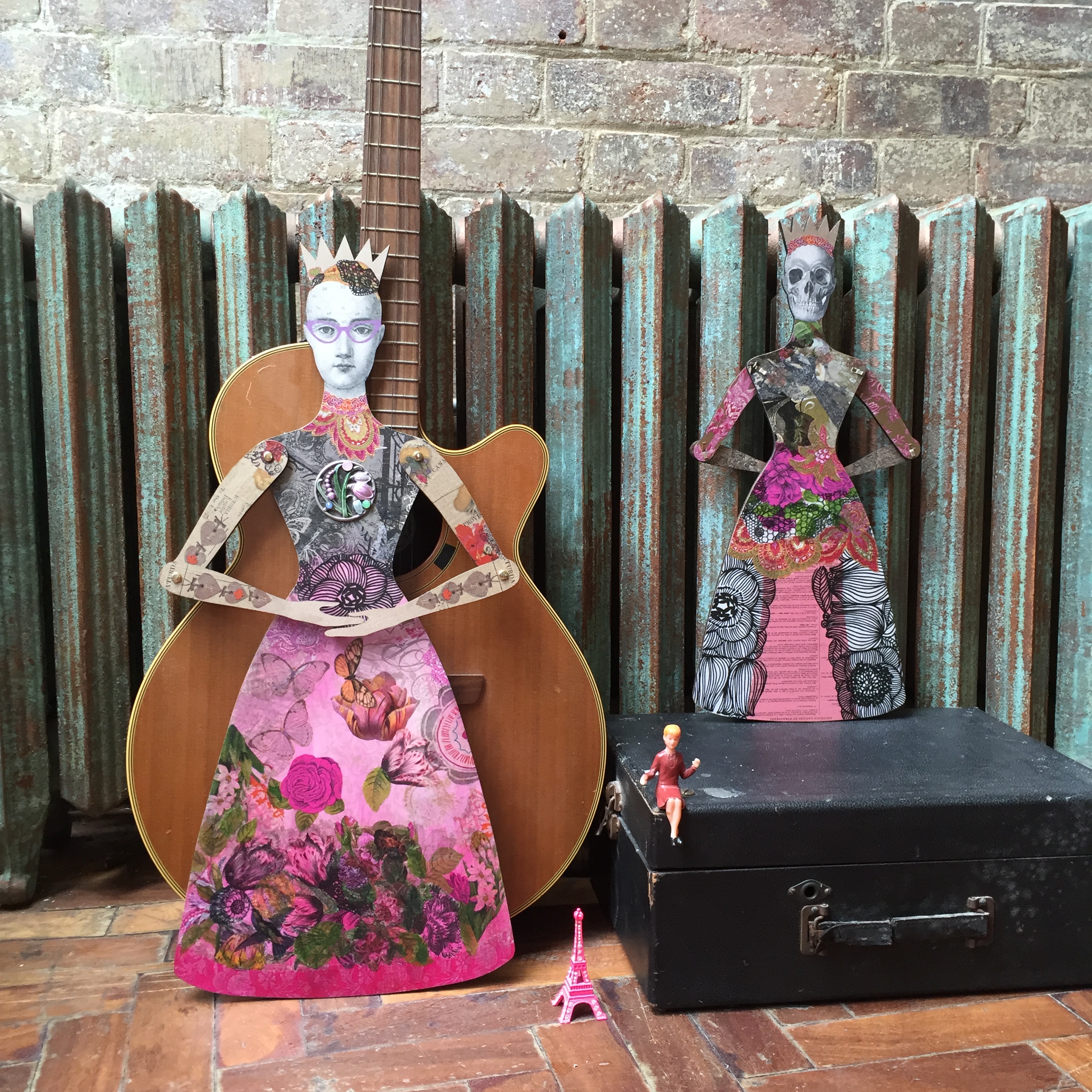 Day 5: PHOTOGRAPHY
This is an area of constant experimentation for me, particularly when it comes to styling. In this shot, I was trying to indicate the size of the dolls by placing them against other objects, and also hint at the vintage/found object influences on my work. I've no idea if I succeeded but I really like the image. I have learned a lot about photography through being a member of Makelight, a learning community for makers, creatives and doers, all growing, inspiring and supporting each other.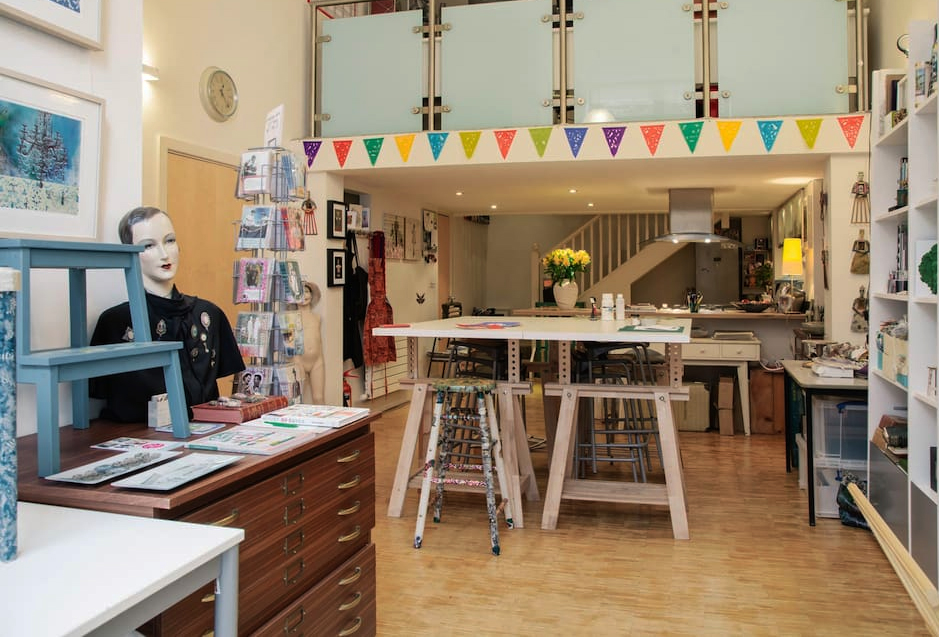 Day 6: WORKSPACE
An unusually tidy view of my studio – if you have attended one or more of my classes you'll know it doesn't always look like this. In 2015 I moved to a complex of live-work units which is home to a diverse range of artists and makers, where I have a large double-height space that allows me to work and teach on the ground floor and keep my office separate on a mezzanine. My flat is above so although part of the same building I really feel I have "gone home" when I climb the stairs in the evening. Needless to say,  I absolutely love working here.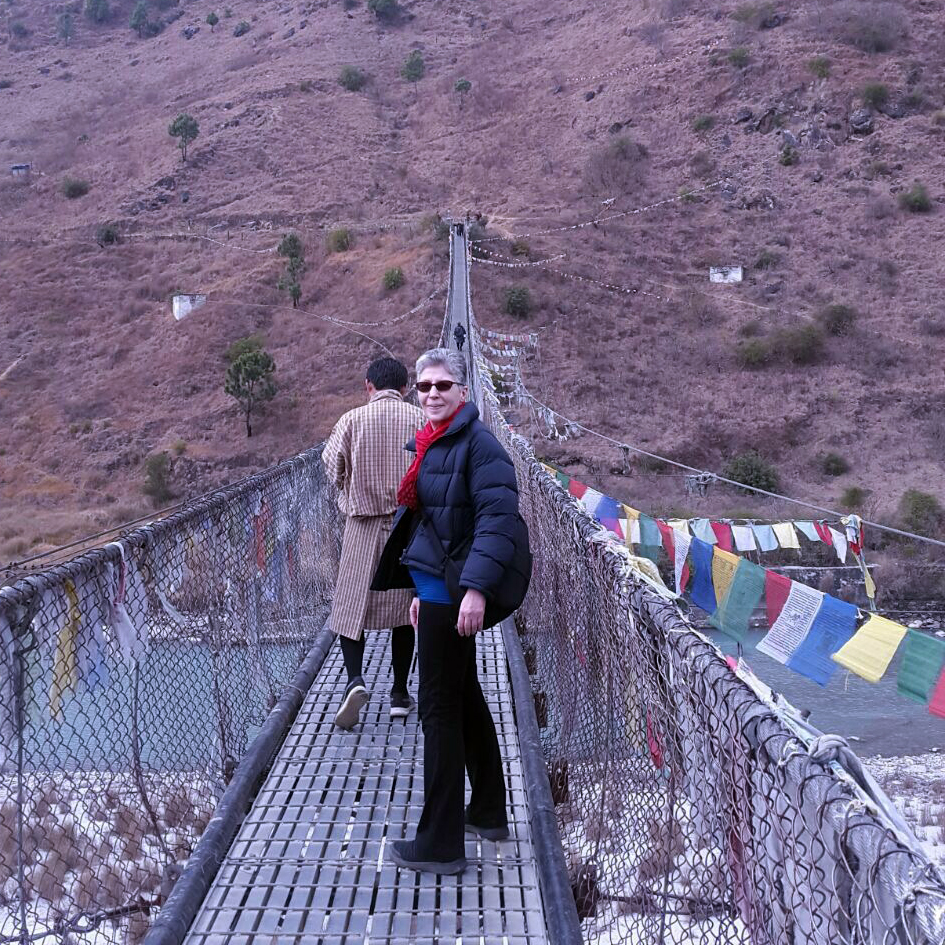 Day 10: TIME TO RELAX
Obviously, this is not everyday relaxation, but travel for me is the perfect way to get away from it all while discovering new lanscapes, cultures and food. This picture was taken in Bhutan, a truly magical place which was part of this year's escape to faraway lands. If you are interested, you can see what catches my eye when I travel in my personal instagram feed.
There are lots of fellow makers and artists taking part in this March challenge on instagram; you can search using the tag #marchmeetthemaker to discover them. And follow me if you'd like to find out how I get on with the upcoming prompts and whether I make it to the 31st of March!